The Beginnings
Arnold Schwarzenegger is without any doubt one of the biggest stars Hollywood has ever known. And then we aren't only speaking about size. He's also proof that everybody with a dream and a lot of perseverance can realize his dreams. Arnold was born on July 30, 1947, in Thal (4 miles from Graz), Austria. He grew up on the second floor of the 300-year-old home at 145 Thal-Linak with his parents Gustav and Aurelia and his older brother Meinhard.
Although the Schwarzenegger household came with Gustav's job as a police commandant, it had absolutely no modern amenities (no plumbing, no central heating, no phone, no carpeting and just a few lights. For many years they didn't even have a refrigerator. Can you imagine? Arnold and Meinhard would have to fetch water from a well 150 yards away from their house).
He started his career in Graz, Austria, with only one thing in mind: capturing the Mr. Universe title. The costs to be a member of a gym were too high, so he equipped his own gym in the basement of his parent's home. But in 1961 he met Kurt Marnul, the former Mr. Austria. Marnul was impressed of Arnold's body and asked him to train in the Athletic Union in Graz.
And of course he wanted that. In 1965 he enlisted in the Austrian army (where he served as a thank driver at the Graz Tank Unit Panzer battalion from October 1, 1965 until the end of September 1966), but to compete in Stuttgart, Arnold had to go A.W.O.L and for that he was jailed when he came back. But he won the competition and was awarded the title of Jr. Mr. Europe.
By the age of twenty, he's named Mr. Europe and he also was the youngest Mr. Universe in history. Later in his career, he won many other titles and he decided to try his luck somewhere else. Obtaining of the Mr. Universe title seemed to be a good reason to go to Hollywood. He arrived in America in 1968.
After a brief stint as a road worker in Santa Monica, California, he competed with his boyhood idol, Reg Park in 1970 and won the Mr. Universe title again. In 1970 he also wins his 1st Mr. Olympia title. But there's more; he also stars in his first movie, Hercules in New York! And again in 1971 Arnold wins his 2nd Mr. Olympia title.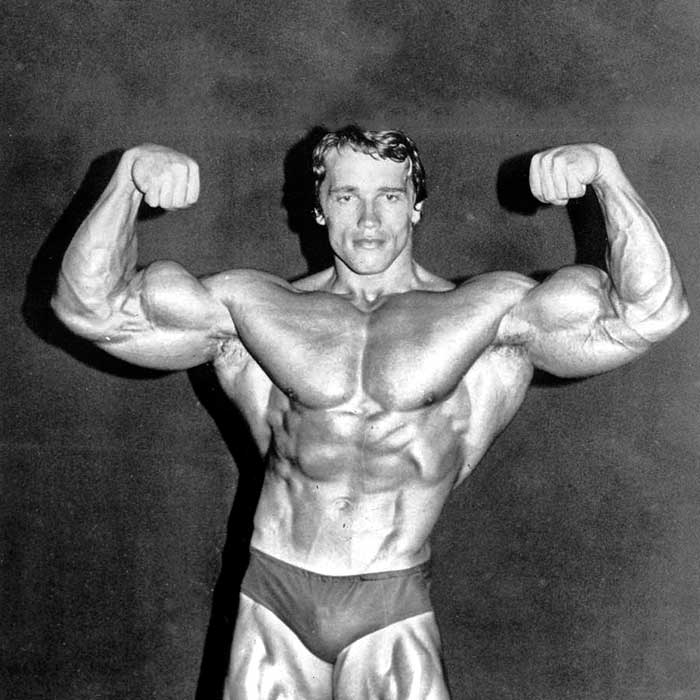 But 1971 is also the year in which Arnold's older brother Meinhard died in a car accident. 2 years later Arnold's father, Gustav Schwarzenegger also passes away.
After winning his 6th Mr. Olympia title in 1975, Arnold retired from the sport of bodybuilding. 1977 brought Arnold a lot of success. He writes a bestseller (The Education of a Bodybuilder) and he wins a Golden Globe Award for his role in "Stay Hungry". He also was named "honorary weightlifting coach" for the Special Olympics International (a post that he still holds today).
When Arnold visits the annual Robert F. Kennedy Tennis Tournament in Forest Hills, New York on August 28, he meets Maria Owings Shriver. The two started dating and soon fell in love. In November 1979, Arnold graduates from the University of Wisconsin Superior. He gets a Bachelor of Arts Degree with an individualized major in international marketing of fitness and business administration. Arnold comes out of retirement in 1980 to win his 7th Mr. Olympia title.
Three years later, on September 9, 1983 Arnold becomes an American citizen. 1985 is the year in which Arnold is voted NATO international star of the year. Arnold also proposes to Maria, and one year later, in 1986, Arnold and Maria get married.
Arnold receives the 1847th star on Hollywood's Walk of Fame on June 2, 1987. As a further tribute to Arnold's cinematic success, he was then awarded male star of the year by the National Association of Theater Owners (NATO). Success followed the Oak as he deftly moved from the silver screen into the restaurant business. In 1989 the first Planet Hollywood opens with Arnold, Sylvester Stallone, Bruce Willis and Demi Moore as major shareholders.
But 1989 has more highlights in Arnold's life: The Arnold Classic is born, just like Arnold and Maria's first child, Katherine Eunice Schwarzenegger (December 13, 1989). Who better to assume the role of chairman of the President's Council on Physical Fitness than a bodybuilding icon? Arnold took the role in January 1990. That year Arnold also becomes chairman of the Inner-City Games and makes his directing debut in "Tales from the Crypt".
In 1991 Arnold, who is a "pioneer" of the Simon Wiesenthal Center, received the Center's National Leadership Award for his support of the organization's holocaust studies. Arnold has given – and continues to give – huge financial support to this charity each year. June 16, 1991, is the birthday of Christina Maria Aurelia Schwarzenegger, Arnold and Maria's 2nd child.
In 1991 Arnold finished his 50-state tour for the President's Council on Physical Fitness (The Oak mission had three objectives: to improve the fitness of American children by returning a regimen of daily physical activity to the school, to increase parental involvement in their children's fitness and to promote community-based fitness programs), is in the director's chair again (now for "Christmas in Connecticut") and he and Maria founded Schatzi on Main.
Schatzi (German for "Little Treasure") is a beautiful 3000-square-foot restaurant in downtown Santa Monica, California. 1993: this is the year in which Arnold is named "International Box Office Star Of The Decade", and accepts the Chairmanship of California Governor's Council on Physical Fitness. Arnold and Maria's third child, Patrick Arnold Schwarzenegger, is also born in 1993 (September 18). One year later the Oak's hands, feet and signature are immortalized at Mann's Chinese Theatre.
In the following 3 years, Arnold would make 5 movies: True Lies and Junior in 1994, Eraser and T2:3D in 1995-1996 and Jingle All The Way, in 1996 too. In 1996 Arnold also receives the Honorary Degree of Humane Letters from the University of Wisconsin, Superior. Batman and Robin, Arnold's 35th movie, opened in 1997. In that year Arnold also receives the Leadership Award by Simon Weisenthal Center, and he and Maria gave birth to their 4th child on September 27, Christopher Sergeant Schwarzenegger.
On April 16, 1997 Arnold underwent elective heart surgery to repair a defective aortic heart valve. The surgery had no complications and Arnold made a complete recovery. Shortly after being released from the hospital Arnold and Maria were going to an event to promote his new movie Batman and Robin, when they arrived a group of over-eager photographers (paparazzi) trapped Arnold and Maria in their car and essentially held them hostage while they scrambled for the "first photos" of Arnold after his surgery.
While in Graz Austria promoting Batman and Robin, and visiting friends, and family, Arnold had the honor of opening the "Arnold Schwarzenegger Stadium". The stadium named for the famous Austrian is an impressive site and a tribute to Arnold and all of his hard work. Arnold's Mother, Aurelia, passes away in 1998 after a heart attack. In 1999 Arnold makes his "comeback" after two years with End Of Days and his latest movie is The 6th Day. In 2002 is another time Terminator in T3.
Arnold's first approach to bodybuilding was fairly atypical. When he was 13, he played soccer but felt very dissatisfied with the team sport. "I didn't like the fact that I couldn't be personally gratified" he declared. He tried other endeavors: track and field, boxing, javelin throw and weightlifting. But only when his coach suggested he tried working with weights (to strengthen his legs), Arnold found his true vocation. When he first walked into a gym he was literally awed.
"I found myself in a gym, in awe of muscles I had never seen before and of which I didn't even know the correct name. The bodybuilders were powerful, Herculean. Before my very eyes, my true future opened up: I had found the answer I had been looking for." (writes Arnold on "Education of a Bodybuilder", New York, Fireside, 1993) Thus began, at 16, the career of the greatest bodybuilder of all times, the man who would be crowned Mr. Olympia for a record seven times.
Respect
As his physique started developing, so did his self-confidence. Very soon he discovered the thing somebody described as the "power of size". And, as his muscles grew, so did the respect he was receiving from his peers. The growth of his muscular mass, started influencing his relationships with other young men and, of course, with women too. He realized that some women were decidedly turned on by his physique, whereas others seemed to be disgusted by it. "I wanted to become even bigger so that I'd be able to really impress the girls who dug muscles and… irritate even more the ones who disliked them."
Mistakes
Even Arnold made mistakes. "I was pretty inexperienced – he
says – so I was observing other bodybuilders' routines and tried to imitate them. There was a famous bodybuilder who smoked cigars and drank whisky, so I thought that if I did the same I'd be winning too! God, how awful I felt!
So, I learned the hard way never to do that again, backstage, or before a contest." Mistakes could also be of a psychological nature. Arnold recalls that, while he was on the flight to London, in 1966, to participate in a contest, he started looking at the pictures of men he would have to compete against. "I started thinking: I can beat this one, but I can't defeat that one and so forth. In so doing, I had already defeated myself – mentally – even before I set foot on stage for the competition."
First Victory
The first step toward stardom for Arnold was the junior Mr. Europe, held in Stuttgart in 1965. In those days, Arnold was drafted in the army and he asked permission to attend the contest, permission which was denied. He left anyway. In spite of not having the vaguest idea about how to pose, he won anyway and that first success officially started his bodybuilding career. Upon his return to a military camp, he was punished with one week in detention, however, his victory seemed to favorably impress his commander, who – from then on – encouraged him to persevere in further training.
The Idol
Finally, Arnold met his idol, Reg Park, and started training with him and even went to visit him in South Africa, where Park lived. Arnold claims he learned a lot from Park like many useful tips on how to better train the parts of his physique more in need of development. Most importantly though, he learned from Park how to improve himself as a human being.
"At the time I was just a punk, a bully, always ready to show off. I used to get in fights almost daily. Coming in contact with Reg helped me get rid of my behavioral problems. He was such an accomplished gentleman and it certainly wasn't difficult for me to admire him and want to emulate him."
Ascending Toward Stardom
The beginning of Arnold's true ascent toward the top of the bodybuilding ranks took place in 1967. He went back to London to compete for NABBA Mr. Universe and, as he had promised, he triumphed. To achieve that, he had to defeat Dennis Tinnerino, the freshly crowned Mr. America. Arnold is still particularly fond of that memory: "I beat them all, including Tinnerino. That was the first time I heard the crowd calling out my name out loud."
Taking notice of this important victory, among others, was Mr. Joe Weider. "I kept hearing about this massive young athlete," says Joe, "so I asked my European associates to find out more about him. I already knew that someone like Arnold would be very beneficial for our sport."
Arnold's "Lunacies"
Even though he had wised up a little, Arnold was still incorrigible when it came down to "having fun". Once he decided to promote himself in somewhat of an odd way: he went down to Munich's shopping district, in the middle of a snowstorm, wearing only swimsuit trunks! His close friends know dozens of similar stories about Arnold's extravagant exploits.
Farewell To Austria
Whenever Arnold would lose a contest, he knew that something was still amiss in his training. He was big and could train in a disciplined way but his muscles were not sufficiently defined and he also knew very little about how a certain diet could help him. He felt that only the Americans knew a lot more than he did, in those fields, so he decided to leave Austria bound for the US, where he could learn from his opponents and then, one day soon, defeat them.
Last Defeat
During the 1969 IFBB Mr. Olympia, the first one in which he competed, Arnold suddenly understood why they called Sergio Oliva (a massive bodybuilder from Cuba, now living in the US) THE MYTH. Oliva was famous for his lengthy "pumping" routine before the contest. He used to wear a long apron, to hide the sight of his muscles from his opponents. "When it came time to go on stage for the pose down – recalls Arnold – Sergio took the long apron off and started walking in front of me down the hall.
Then, nonchalantly lifting one of his shoulders, he spread the largest lat muscle I had ever seen; then he repeated the same movement with the other shoulder. His back muscles were so huge that he seemed to be as wide as the hall itself! As far as I was concerned, I already knew – then and there – I would lose against him." In fact, Sergio won, even though not by much, over Arnold. Arnold claims that was the last time an opponent was able to intimidate him. And it was also the last time Sergio Oliva was able to defeat the "Austrian Oak."
Competition History of the Austrian Oak
1963 Contest in Graz, Austria, at Steirer Hof Hotel – 2nd place
1965 Junior Mr. Europe in Stoccarda, Germany – 1st place
1966 Mr. Europe – 1st amatorial
1966 Best Built Man in Europe – 1st place
1966 NABBA Mr. Universe in London – 2nd, tall class amatorial
1967 NABBA Mr. Universe in London – 1st, tall class amatorial and abs.
1968 NABBA Mr. Universe in London – 1st, tall class pro and absolute
1968 IFBB Mr. Universe in Miami, Florida – 1st place, tall class
1968 IFBB Mr. International in Tijuana, Mexico – 1st place, tall class & abs.)
1969 IFBB Mr. Universe in New York City – 1st place
1969 IFBB Mr. Olympia in New York City – 2nd place
1969 NABBA Mr. Universe in London – 1st place, tall class pro and absolute)
1969 Mr. Europe ad Essen, Germany – 1st place, tall class pro and absolute)
1970 NABBA Mr. Universe in London – 1st place, tall class pro and absolute)
1970 AAU Pro Mr. World in Columbus, Ohio – 1st place
1970 IFBB Mr. Olympia in New York City – 1st place
1971 IFBB Mr. Olympia in Parigi – 1st place
1972 IFBB Mr. Olympia in Essen – 1st place
1973 IFBB Mr. Olympia in New York City – 1st place
1974 IFBB Mr. Olympia in New York City – 1st place
1975 IFBB Mr. Olympia in Pretoria, South Africa – 1st place
1980 IFBB Mr. Olympia in Sidney, Australia – 1st place
Arnold's Top Form Measurements
Arms: 22 inches
Chest: 57 inches
Waist: 34 inches
Thighs: 28.5 inches
Calves: 20 inches
Weight: 235 pounds
Height: 6 feet 2 inches